Ankle Sprain in Singapore – Things You Need to Know
No matter where you are in Singapore, whether on holiday or at work, having a leisurely walk or playing on a tennis court, an accidental sprain of the ankle could occur. . You could accidentally trip, make a wrong step, and roll your ankle over your foot.
If you have, and your ankle hurts, shows signs of bruising, and you find it hard to walk, you may have sprained your ankle. If it's a mild one, you might be limping for an hour or two and wake up the following day without any issues; if it's a bad one, you may have pain on walking and the ankle may remain swollen and painful for weeks as you wait for the swelling and bruising to ease off.
However, what exactly are ankle sprains, and how do you know if that pain in your ankle is a cause for concern? Read on more to understand all about ankle sprains in Singapore.
First, to understand what ankle sprains are, we need to understand what a 'sprain' is. Sprains describe injury of a ligament – the bands of tissue that connect two bones. A strain on the other hand describes injury to the muscle. ! Ligaments tend to have less blood supply than muscles and may take longer to heal. Hence, an ankle sprain is when the ligaments which support your ankle and provide stability to your ankle become torn or stretched beyond its normal limits due to injury.
There are several different types of ankle sprains in Singapore:
Lateral Ankle Sprain (Inversion Sprain)
This is the most common type of ankle sprain, with over 70% of sprains belonging to this category. They involve commonly 2 ligaments on the outer part of the ankle: Anterior talofibular ligament (ATFL) and Calcaneofibular ligament (CFL). When a person rolls their foot inwards, the outer ligaments become torn, especially the ATFL which is known to be the primary stabilising ligament of the ankle joint.
Medial Ankle Sprain (Eversion Sprain)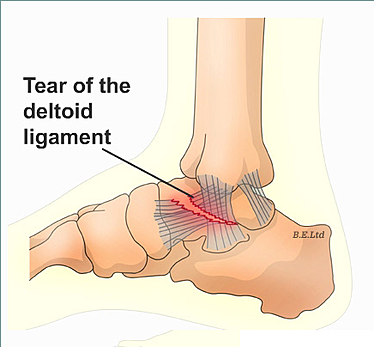 This type of sprain involves the ligaments on the 
inner part
 of the ankle (called the deltoid ligament) and does not happen as commonly because the joints between your inner ankle and foot tend to be more stable than the outer part of the ankle. About 
6% of sprains
 are in this category.
Syndesmotic Sprain (High Ankle Sprain)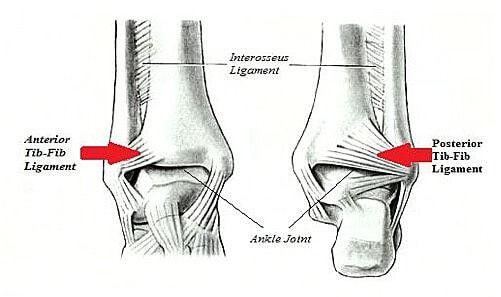 This may happen during high-impact sports involving sudden twisting, such as basketball or football, where the ligaments in the joint that connect the two bones right above the ankle (tibia and fibula) are forcibly stretched and torn. Syndesmotic sprains may present themselves with pain but no swelling or bruising compared to other ankle sprains, as they exist deeper in the joint. They also commonly occur with fractures of the ankle as syndesmotic injuries are typically high-energy injuries and occur with significant force.
What Causes Ankle Sprains?
Structurally, since they exist to stabiise joints in the body passively, they do have an elastic limit – this means that if you stretch them too far beyond the range that they can go, those ligaments will start to tear, resulting in an 'ankle sprain'.
What Are The Symptoms Of Ankle Sprains?
Some common symptoms that point to an ankle sprain condition are:
Pain over the inner or outer ankle joint after an injury
Swelling and bruising (Blue-black or puffy redness)
Difficulty moving the foot
Difficulty walking
Tenderness when you press around the injured area
How Is An Ankle Sprain Diagnosed?
An ankle sprain is diagnosed according to specifc grades by the patient's clinical presentation after an injury to the ankle.
Grade
Presentation

I

(Mild – Ligaments are stretched and injured, but not torn)

Mild or minimal swelling, sometimes no swelling after a few days
No feeling of instability (ankle giving way)
Function is not affected (walking is possible, although it may be uncomfortable or slightly painful)

II

(Moderate – Ligaments are partially torn)

Putting weight on foot is painful
Bruising/discolouration around the injured area
Swelling may get worse over a week
Tender to touch
Function is affected with increased load (walking for longer periods, climbing stairs)

III

(Severe – At least one ligament is completely torn through)

Severe pain
Significant swelling around the ankle
Ankle is unstable (feels 'wobbly')
Function is usually impossible (unable to stand on the leg or walk)
To appropriately diagnose your ankle sprain, the doctor may require you to undergo an ultrasound, MRI, or CT scan to fully visualise which ligaments have been injured and to what extent.
How Are Ankle Sprains Treated?
There are several options for the treatment of ankle sprains in Singapore.
Conservative Care
For the initial stage of recovery, the R-I-C-E protocol is usually employed. This means Rest, Ice, Compression, and Elevation, which can help reduce the swelling and initial inflammation that happens right after the injury, along with the use of anti-inflammatory medication. Active rehabilitation through physiotherapy will help improve mobility and strength to regain back function for mild or moderate ankle sprains. And for chronic or recurrent sprains, Extracorporeal Shock Wave Therapy (ESWT) can assist in ligament recovery.
Surgical Procedures
Sprains that are severe, resulting in instability that affects function, or that have not responded to physiotherapy may require surgical intervention.. Current techniques allow for minimally-invasive procedures, requiring only a few small incisions over the ankle joint.
If you are experiencing these symptoms:
Severe pain and swelling which does not seem to subside,
Have difficulty with your daily functions like walking or moving around, or
Recurrent ankle injuries multiple times over the same area
It might be a good time to call a specialist doctor to assess your ankle. If left for too long, ankle sprains can result in persistent weakness and chronic instability, which may affect the function of the other parts of your body as well, like your knees.
Dr Ananda Vella practices in 3 clinics island-wide and specialises in ankle injuries, making him well-equipped to assist you with any ankle concerns. Contact us today to get walking (or running!) back to what you love to do again!
Dr. Ananda Vella is a Singapore and Swiss-double-fellowship-trained MOH-accredited orthopaedic specialist consultant surgeon, As a former consultant from the Singapore General Hospital and Sengkang General Hospital and with more than 20 years of experience, Dr Ananda treats a variety of orthopaedic bone and joint conditions, including in his subspecialty focus of foot and ankle conditions, hip and knee pains, as well as sports injuries. Dr Ananda is also well-versed in minimally invasive surgical techniques, including having performed the first lateral total ankle replacement surgery in South-east Asia to improve outcomes for patients with severe arthritis.
Dr Ananda regularly practices in 3 clinics across Singapore and is accredited to operate in all private hospitals in Singapore. Should you have any queries or need any further assistance, please do not hesitate to schedule an appointment with our Dr Ananda by WhatsApp at 8860 0642 for assistance. Alternatively, please leave us a message via the enquiry form and we will get back to you as soon as possible.