An ankle sprain is a common injury that occurs when the ligaments surrounding the ankle joint are stretched or torn. One of the most commonly injured ligaments in an ankle sprain is the anterior talofibular ligament (ATFL), which connects the talus bone to the fibula.
Orthopedic Implications of Ankle Sprains:
Ligament Damage: An ankle sprain can result in stretching or tearing of the ATFL. In severe cases, other ligaments such as the calcaneofibular ligament (CFL) or posterior talofibular ligament (PTFL) may also be injured.
Instability: Following a severe ankle sprain, the ligaments may become loose or weakened, leading to joint instability. This instability can increase the risk of recurrent ankle sprains or chronic ankle instability.
Fractures: In some cases, ankle sprains can be associated with fractures, particularly avulsion fractures where a piece of bone is pulled away by a ligament or tendon.
MRI image of the ankle cross-section with 2 red arrows pointing to the two torn ends of the ATFL ligament.
Treatment Strategies for Ankle Sprains:
RICE Therapy: Initial treatment for ankle sprains typically involves the RICE protocol: Rest, Ice, Compression, and Elevation. Resting the injured ankle, applying ice to reduce swelling, compressing the ankle with a bandage or brace, and elevating the foot can help control pain and swelling.
Immobilization: In more severe cases or when fractures are present, immobilization may be necessary. This can be achieved using a cast, walking boot, or ankle brace to protect the injured ligaments and promote healing.
Physical Therapy: Once the acute phase has passed, physical therapy plays a crucial role in ankle sprain rehabilitation. It focuses on strengthening the ankle, improving range of motion, and restoring balance and proprioception.
Medications: Nonsteroidal anti-inflammatory drugs (NSAIDs) may be recommended to manage pain and reduce inflammation during the acute phase.
Surgical Intervention: Surgery is usually reserved for cases where conservative treatment fails to provide relief or when there is significant ligament damage and or signs of chronic ankle instability leading to recurrent sprains and cartilage injury. Surgical options may involve ligament repair or reconstruction using autografts or allografts.
Modern Techniques allow us to perform these surgeries through keyhole procedures that make small incisions and allow for quicker recovery and less postoperative pain. Dr Ananda is specialised in such procedures and performs the knotless all-inside technique for ankle ligament reconstruction.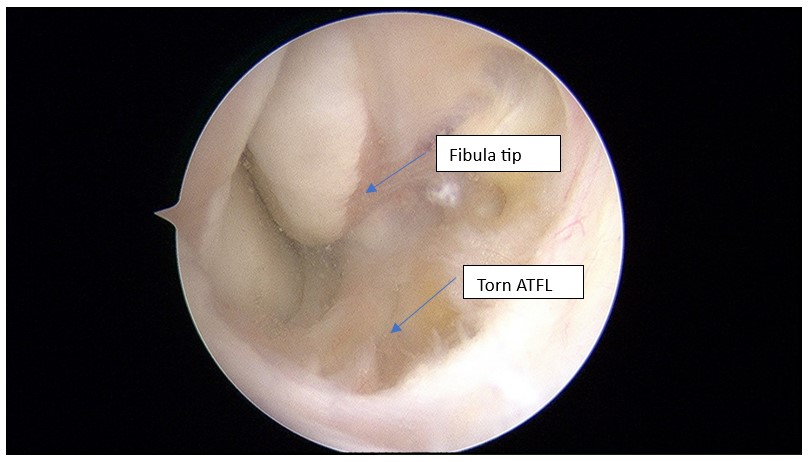 Arthroscopy image of a torn ATFL supposed to be attached to the fibula tip. Note the looseness.
Using a specialised technique, sutures are placed on the torn ligament. A small channel is made in the fibula tip and using a 3 mm thick implant screw , the ligament is reanchored to the bone via the implant
Recovery time for ankle sprains varies depending on the severity of the injury. Mild sprains may resolve within a few weeks, while more severe sprains may take several weeks to heal completely. It is essential to follow the prescribed treatment plan and gradually return to activities to avoid recurrent injuries and long-term complications. Consulting with an orthopedic specialist can provide individualized guidance and care for ankle sprains.
Please consult us if you suffer from persistent ankle pain and a feeling of instability. Let us help you get back to your activities pain-free.